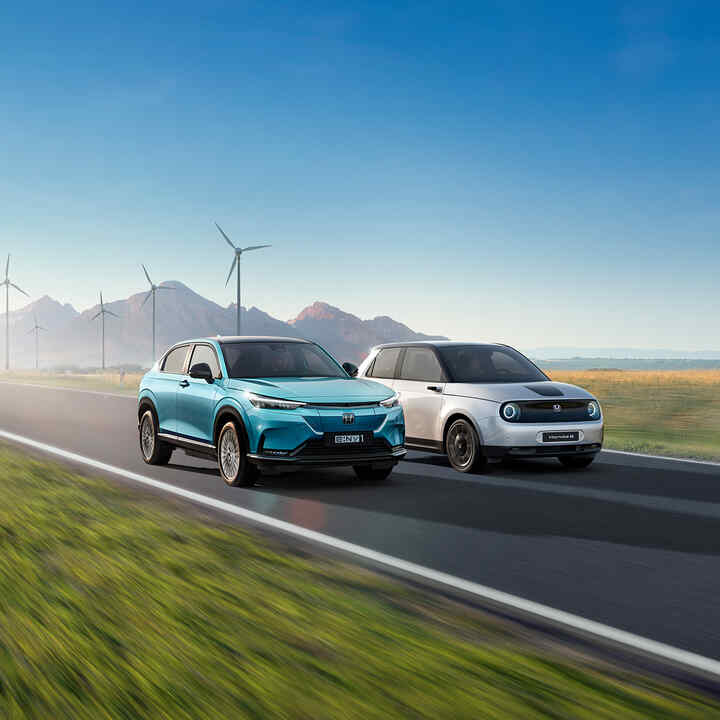 Honda Electric Car Range
Embrace the future without compromising the qualities you love with Honda electric cars. Our electric vehicles marry the eco-friendly, innovative benefits of electric technology with the characteristics that have defined Honda cars for decades. With our cutting-edge design aesthetics, advanced technology, and commitment to safety, you're getting the best of both worlds – it's a Honda, and it's an EV.
Which Honda electric vehicle is right for you?

All range figures are calculated using combined economy figures from WLTP data.
Honda e
Compact, electric urban car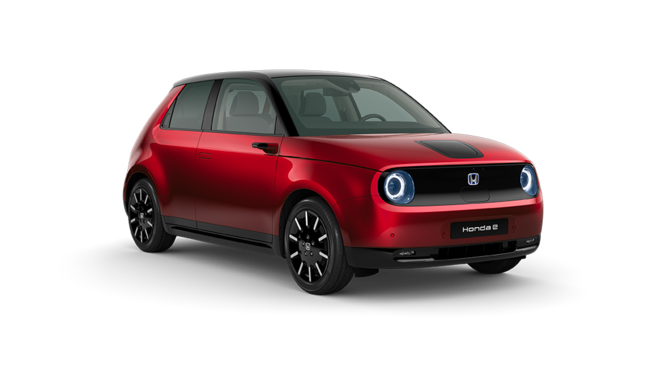 Advanced electric drivetrain

Up to 220km driving range*

Up to 861 litres of boot capacity*

Rapid charging - Up to 80% charge in 31 mins**

Honda SENSING as standard

Honda CONNECT infotainment system with Android Auto™ and Apple CarPlay®

Zero driving emissions*
Explore the Honda e
Honda e:Ny1
Spacious, stylish electric SUV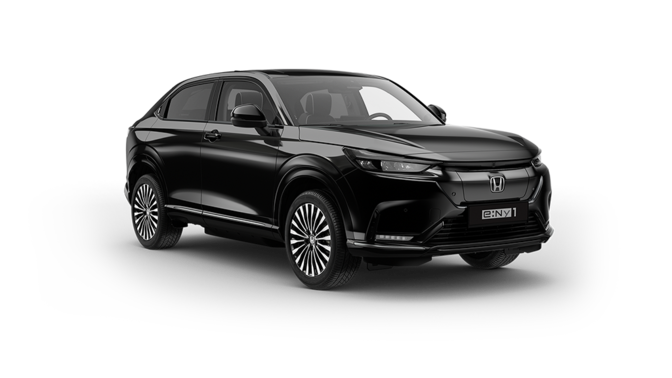 Advanced electric drivetrain

Up to 412km driving range*

Up to 1176 litres of boot capacity*

Rapid charging – Up to 80% charge in 45 mins**

Honda SENSING as standard

Honda CONNECT infotainment system with Android Auto™ and Apple CarPlay®

Zero driving emissions*

Explore the e:Ny1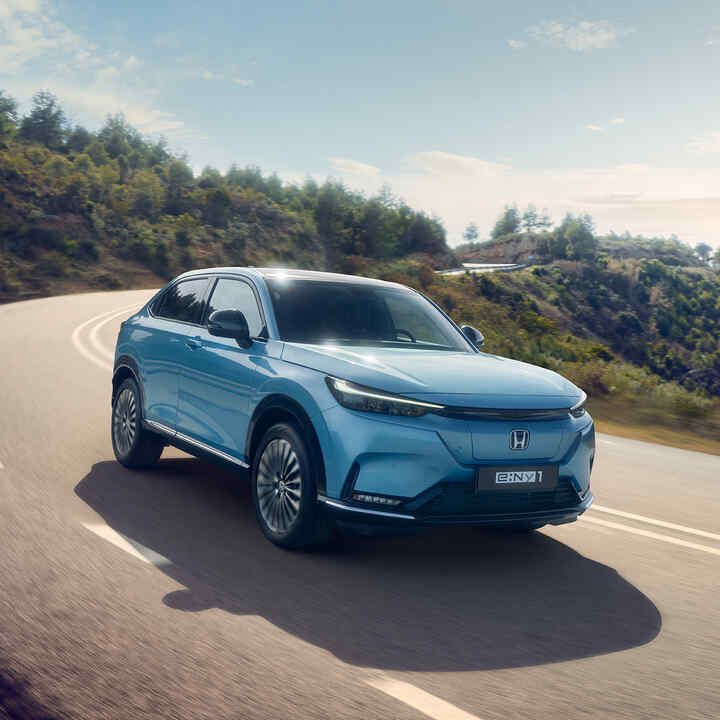 Why opt for an electric vehicle?
An electric vehicle, also known by the acronym EV, is a vehicle powered fully by electricity. Electric cars are more environmentally friendly than traditional cars and hybrids as they don't use fossil fuels while driving. They also have low running costs because they have fewer moving parts to maintain.
Why choose a Honda EV?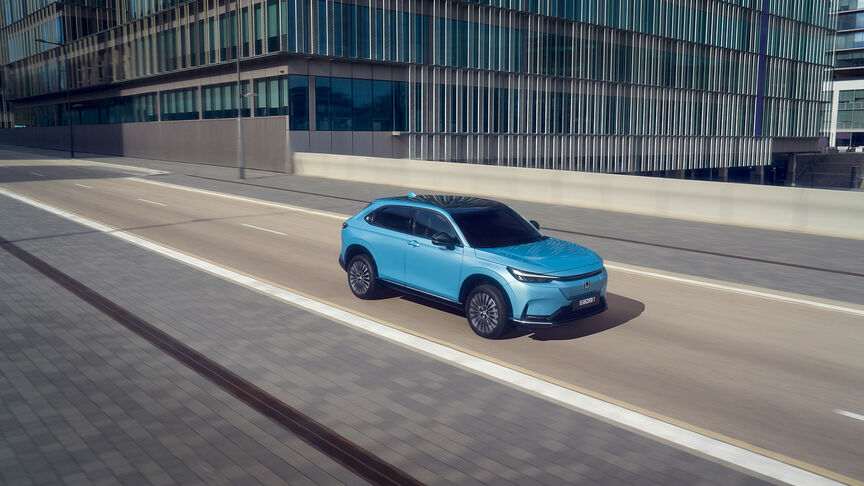 Greater sustainability
Experience the benefits of emission-free driving with Honda EVs. Our electric vehicles are ideal for urban driving, with many European cities having introduced low-emission zones in recent years.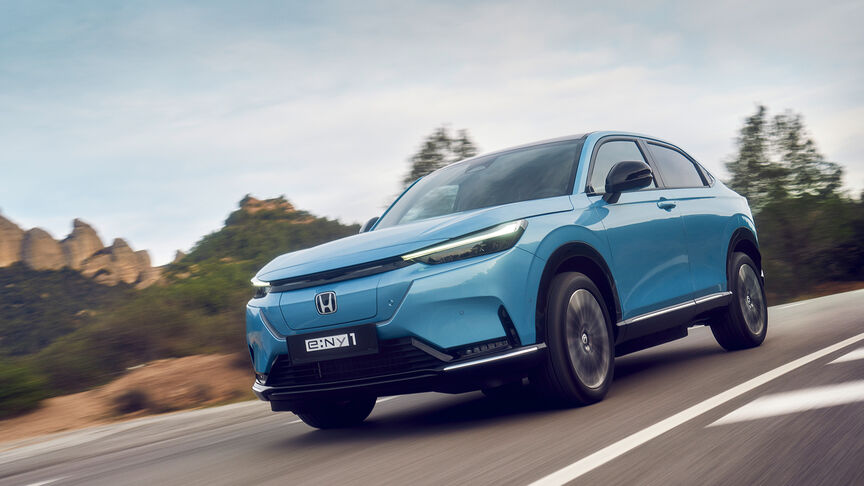 Electric drive
Don't compromise on the joy of driving. Feel the exhilaration of instant torque and rapid acceleration, combined with the smooth and silent operation of the Honda electric powertrain.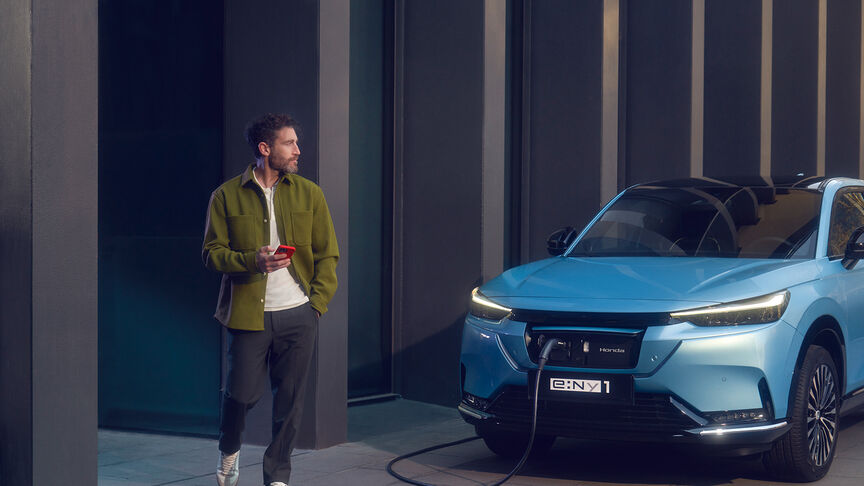 Boundless travel
Experience longer journeys on a single charge with our enhanced range capabilities. We provide diverse charging solutions: from an expansive network of public charging stations to the convenience of setting a recharging schedule via the My Honda+ smartphone app.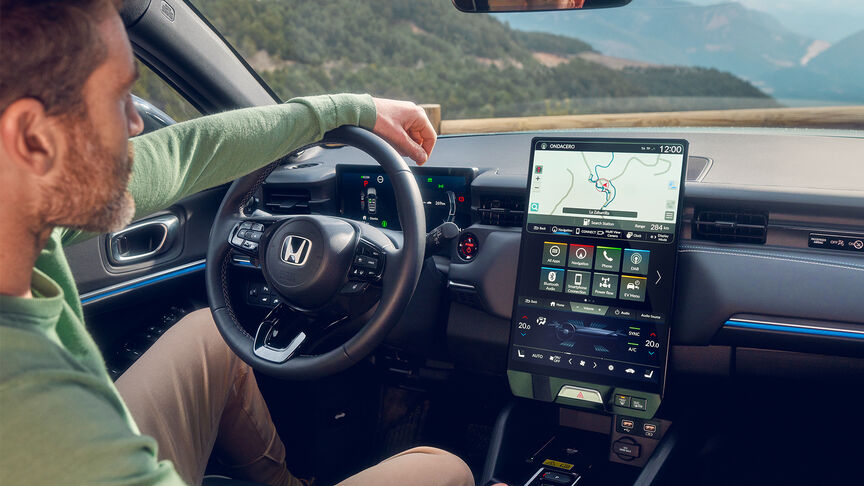 Smart convenience
From Honda's electric powertrain which features battery water cooling technology to our bespoke My Honda+ app that links you to your car via your smartphone – Honda EVs are designed to enhance both convenience and experience.
Advances in charging and coverage
Advances in charging and coverage have led to greater freedom for Honda electric vehicle owners. Whether you're at home, on the go, or using remote charging, there are numerous charging options and technologies at your disposal.
Wall Charger:
Ideal for overnight charging, ensuring your Honda EV is always ready to go.
Compatible Charging Stations:
Honda EVs can be charged at a variety of public stations for easy 'on the go' charging.
My Honda+:
Remotely monitor and control the charging of your Honda EV.


Advanced Charging Options
Honda Power Charger:
An optional home charging solution that offers faster charging times than standard domestic outlets.
Rapid Charging:
With high-capacity batteries, the e:Ny1 can add up to 10-80% charge in approximately 45 minutes*.
Geo-location:
Use My Honda+ to locate your vehicle.
Charging Cables:
Provided with your Honda EV for easy connection to charging sources.
Charging Phases:
Honda EVs can utilise single or three-phase charging, depending on the available infrastructure.
Digital Key:
Lock/unlock and start your Honda e vehicle via your smartphone with My Honda+.
Under WLTP protocols, the Honda e has a range of up to 222km, and the Honda e:Ny1 has a range of up to 412km.
Range potential is journey dependent, and can vary according to driving style, weather/traffic conditions and load being carried.
The Honda EV experience

Explore the current Honda electric car range and discover how our innovative powertrain technology has resulted in sufficient range for daily commutes and impressive performance across all our EVs. From low emissions to convenient charging, Honda electric cars continue to redefine the driving experience.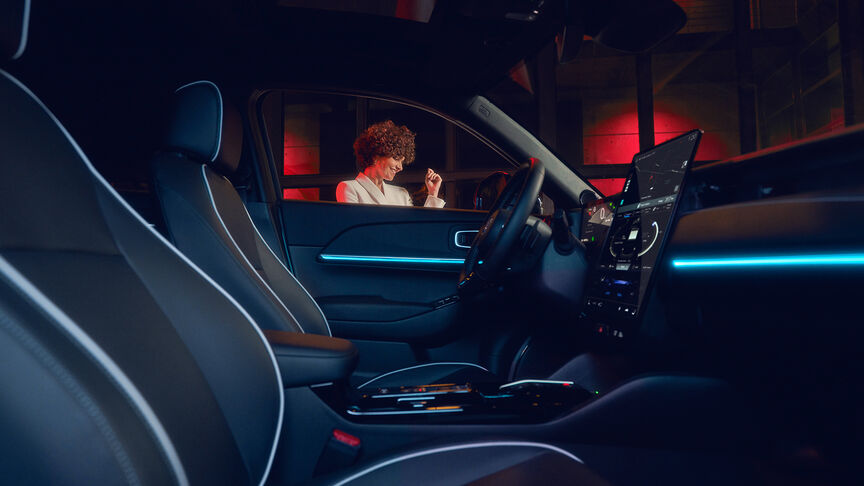 Design Aesthetics
Honda EVs combine the style and practicality of traditional Honda cars along with design aspects that complement electric vehicles.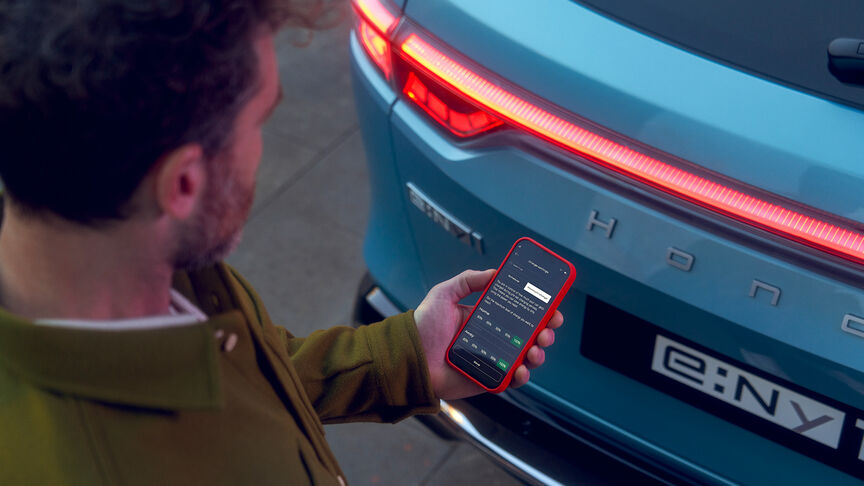 Advanced Technology
Honda's advanced technology is a key feature of our EVs. This includes our infotainment system Honda CONNECT and My Honda+ App which includes features like Digital Key, Geo location and remote climate control in addition to remote charging.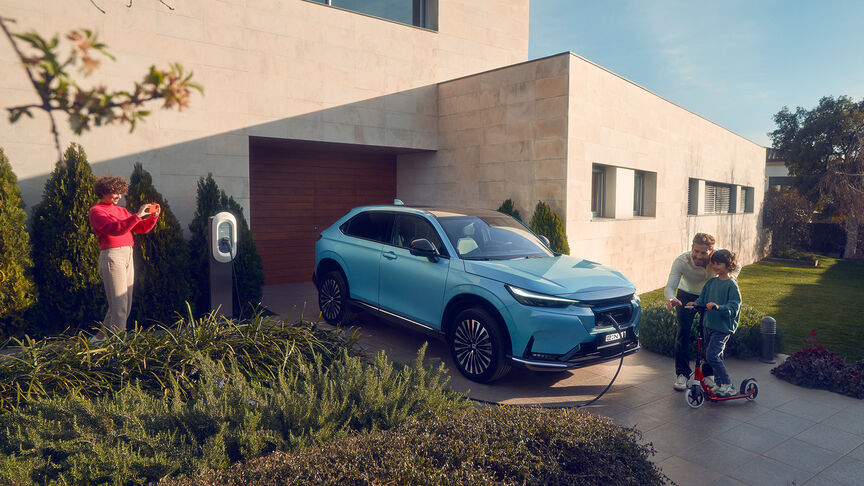 Honda SENSING
Safety remains a top priority in Honda EVs. Honda SENSING, our cutting-edge suite of safety and driver-assistive technologies, comes as standard, keeping you, your passengers, and other drivers and pedestrians safe.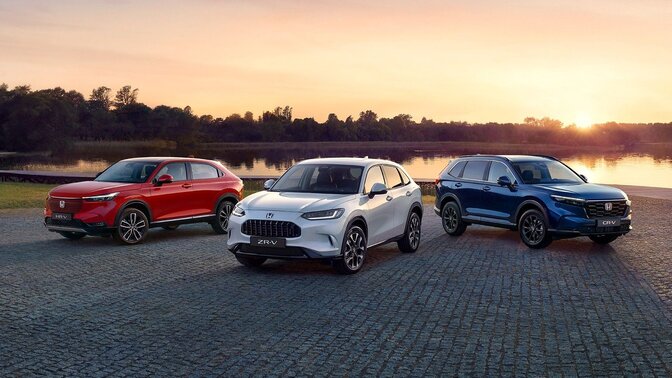 Explore the Honda Hybrid range
Powered by Honda's innovative hybrid powertrain, our range includes small city cars, sporty hatchbacks and practical family SUVs.
See the Honda Hybrid range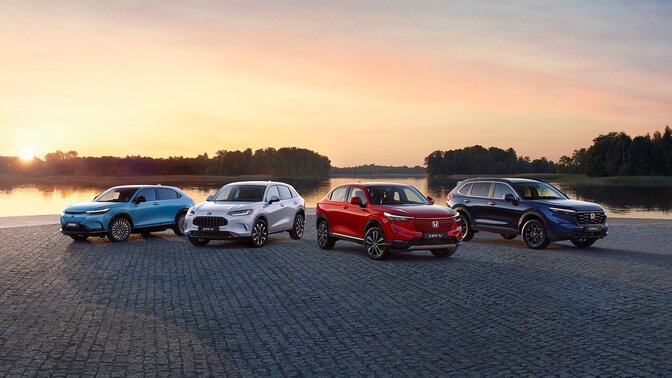 Explore the Honda SUV Range
Whether you're after a compact, fun to drive SUV, a practical mid-size urban family car or even a large premium SUV, we have something for everyone. Discover our range of full hybrids, plug-in hybrids and pure EVs.
See the Honda SUV range
1Economy & Emissions figures based on WLTP. The Honda battery electric vehicles require mains electricity for charging. Zero emissions while driving. Electric range figures may not reflect real life driving results, which will depend upon a number of factors including the starting charge of the battery, accessories fitted (post-registration), variations in weather, driving styles and vehicle load.
2Indicative charge times shown, for comparison purposes only, in optimal conditions, such as a temperature around 25°C. Actual charging times may vary depending on various factors, including the age, type, condition, charging capacity and temperature of the charging unit and the battery, the starting charge and environmental conditions such as the outdoor temperature at the point of use. Charge times may be longer in colder weather and if battery temperature activates safeguarding technology.